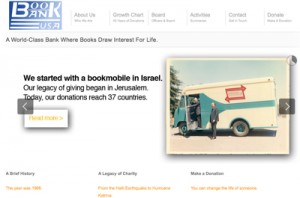 AFTER

Book Bank USA is a non-profit organization in San Rafael, CA that has donated over 5.9 million books and more than 2,500 computers to nearly 1,000 schools and libraries in 37 countries over the past 45 years. Its tagline is "A World-Class Bank Where Books Draw Interest For Life" and I'm is proud to sit on its Board of Directors.
Though this was already a WordPress site that was first written years ago, the wanted to have it updated  with new graphics and more recent activities.
So Gil Zeimer of Zeimer's Advertising Shoppe again worked with Bradley Charbonneau at Likoma who found the template that features a slider on the home page that can accommodates five different images and captions, along with three main copy blocks on the bottom of the home page.
Have a look and please donate if you'd like to help children around the world read English literature: www.BookBankUSA.org.
BEFORE