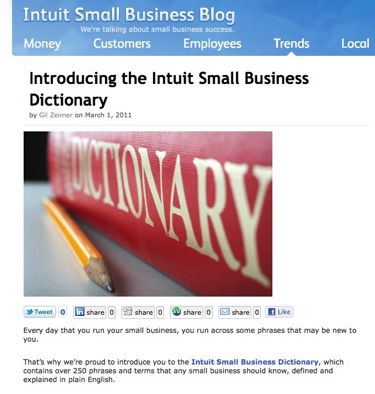 Here's a terrific BNI Success Story through an initial introduction from Lauren Deane Evans for a Craig's List ad that she sent my way:
There are so many new words, terms and phrases for small businesses to learn these days. Which is why I'm proud to introduce you to the Intuit Small Business Dictionary that I created as a contributing writer to the Intuit Small Business Blog.
The Dictionary contains over 250 brief definitions of phrases and terms that any small business should know, defined and explained in plain English, such as the difference between SEM and SEO; Long-Tail Keywords and Short-Tail Keywords; Drupal, Joomla and WordPress; Guerrilla Marketing and Mobile Marketing; and many, many more.
For this project, my client said, "Big thanks to Gil Zeimer for writing over 250 terms for the Small Business Dictionary we published on the Intuit Small Business Blog. We choose Gil for this project over a larger vendor because he was flexible and fast in response to our requests. He's also been a steady contributor of articles to the blog, and it's great having him available to help."
Please bookmark the Intuit Small Business Dictionary so that it will become an invaluable resource for you –– and feel free to comment on any term you find there.