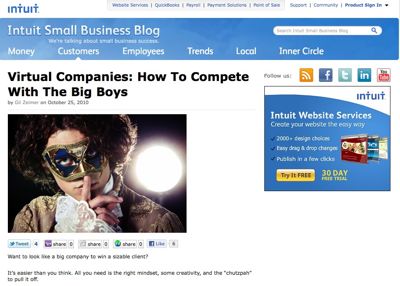 Here's a great BNI referral success story…
Lauren Deane Evans of Good Looking Ideas is a valued member of BNI Embarcadero.com. A few weeks ago, she forwarded me a Craig's List email about someone looking for writers for a new Intuit Small Business Blog.
Most important of all, their writers had to be experts at WordPress, the most popular blogging software that lets anyone publish and update their own content as easily as using Microsoft Word. I've learned this platform through my work with Bradley Charbonneau of Likoma.com, another BNI Embarcadero member.
I'm proud to say that I'm now a contributing blog writer and am cranking out up to five articles a week for Intuit, which is also a long-time client of mine for direct response copywriting. Here's the URL for my articles, so please visit the site, read some of them, and make a comment. Some of my recent posts are: